Your dentist is a detective!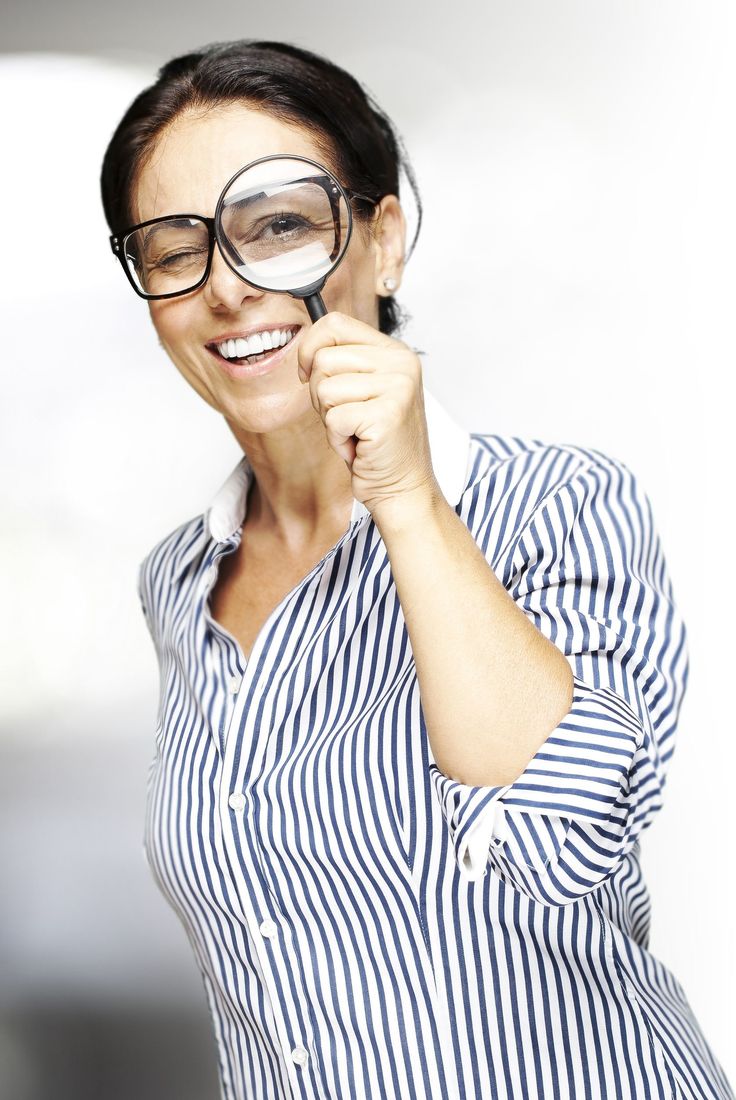 Did you know that the health of your mouth gives clues about your physical health? And it can even signal your health-to-be? As a specialist in oral health, your dentist is trained to spot the signs of ill health. So you could say, as far as your mouth is concerned, your dentist is a detective!
Conditions ranging from eating disorders to sleep problems, stress and more can be seen in your mouth. So, the next time your dentist checks out your oral health, he or she may also pick up clues about the health of the rest of your body. For example …
You need to stress less
Stress hormones have many functions – they're pumped out in times of stress in a primaeval reaction that dates back to early evolution.
One of the effects of stress hormones is to mobilise blood glucose levels to the large muscles such as the legs giving you the energy to fight or take flight – or sometimes just freeze – in the face of danger.
Today stress hormones are still vital – the surge in stress hormones help you get you out of bed in the morning and start your day. But stress is ever-present for many of us and even small stressors can trigger a release in stress hormones. Too many stress hormones can trigger physical and emotional problems over time.
One physical sign of stress overload can be tooth grinding (bruxism). Bruxism can also be the result of a dental disorder, the result of jaw problems and is also more common in people who have sleep apnoea – where the affected person stops breathing for short periods during sleep, though.
Your dentist can pick up the signs of bruxism which includes worn down tooth surfaces and reduced height of your teeth.
If your dentist does see the signs of grinding, you may be advised to wear a customised mouth guard at night plus other treatments. Of course, addressing your stress is vital – talk to your GP about treatments that may help you.
An eating disorder or gastric reflux
Your stomach contains very strong acid – it's there to kill potentially harmful germs in food and to start the process of protein digestion. So, any kind of frequent vomiting (such as bulimia) that allows acid to leave the stomach and come up through the throat and into the mouth can erode the teeth, especially the enamel and dentine layer that covers the back teeth. Enamel erosion can also be caused by acid reflux (where acid is regurgitated upwards) and it can be genetic, too.
Your dentist can talk with your about appropriate treatments to protect your teeth. And, your GP may be able to refer you to a specialist if needed.
Problems with alcohol and drugs
Alcohol is a diuretic – which means that you lose water if you drink too much of it and don't hydrate enough and this can trigger dry mouth. Dry mouth increases the risk of dental problems since saliva is your mouth's natural cleanser.
Alcoholic drinks can also provide sugar (on its own or in the form of mixers). Other drinks, such as such as wine, are acidic which can damage your precious enamel. People who drink too much alcohol may have gum damage too – advanced gum disease (periodontitis), increases with frequency of alcohol consumption.
Drinking too much alcohol and using drugs can also mean that good dental hygiene habits fall by the wayside. If you need help with alcohol and drug problems – including smoking which also damages your dental health – talk to you GP about help with quitting.
Diabetes, heart disease and more
Your gums are spongy and in constant communication with your body. So unhealthy gums can affect your body and vice versa. Research has shown that patients who take better care of their teeth and gums may have better blood sugar control. People with diabetes are three times more likely to have periodontitis, the most severe form of gum disease. People with diabetes with better blood sugar control may have less severe cases of gum disease, too.
Research suggests a link between gum disease (which is a bacterial infection) and heart attack/stroke. It is thought that the bacteria infecting the gums may enter the bloodstream and attach to fatty deposits in blood vessels. This can cause harmful inflammation of blood vessels and may cause blood clots, which can lead to heart attack.
Bleeding, red, puffy gums are common signs of gum disease. But it's also an indicator of overall inflammation, which your body in general. Your dentist will speak with you about underlying conditions and how they're affecting your dental health and what you can do to boost your oral health. If you are having trouble controlling blood glucose levels or any other symptoms, your GP can help.
Dry mouth
Dry mouth (xerostomia) is where your mouth does not produce enough saliva. Saliva protects your teeth washing away food debris and remineralising your teeth, so too little of it increases your risk of dental decay. Plus, your gums may become inflamed and bleed, you may have trouble tasting foods (since food needs to be dissolved in water before you can taste it) and there may also be problems with delayed wound healing.
Xerostomia may be the result of medications or due to other medical conditions. Your dentist can suggest treatments to help boost saliva flow. And you may want to chat with your GP about and side effects you may be experiencing.
Your dentist can show you effective and gentle ways to clean teeth, gums and tongue to help keep your mouth and body healthy. And, suggest suitable products to help.
Bone problems
Osteoporosis is a condition where bones become weak and brittle, may be linked with periodontal bone loss and tooth loss. Causes include ageing, menopause (it is more common in women), and lack of calcium and Vitamin D. Osteoporosis can damage the jawbones and can also lead to dental and oral health issues (such as gum or periodontal diseases tooth loss).
Careful and regular cleaning, brushing and flossing can help keep your mouth healthy because bacteria under gums can cause inflammation and aggravate the condition.
Your dentist will urge you to keep all of your dental appointments and not delay or postpone them – and also make an appointment if you are concerned in any way.
A healthy diet that includes plenty of calcium and vitamin D, bone-strengthening exercises and avoiding smoking and too much alcohol may help but it is very important to see your GP for appropriate treatment.
Oral lesions
Your dentist may be able to detect lesions in your mouth including ulcers as well as the early stages of oral cancer, which may show as white and red lesions on the tongue, the floor of the mouth, and the soft palate tissues in the back of the tongue.
Early treatment can help to improve the prognosis of the condition.
Anaemia
One of the most common nutritional deficiencies in the world, anaemia can happen when there aren't enough circulating iron-containing red blood cells. According to the Australian Bureau of Statistics[i], the risk of anaemia is highest amongst older Australians. Oral signs include pale gums and the tongue can lose its typically bumpy texture and become smoother in appearance.
There are so many reasons to look after your teeth and gums – for your oral health and your physical and emotional wellness too. Come and see your dentist – at North Lakes Dental Centre, we're here for you – and your good health!
[i] http://www.abs.gov.au/ausstats/abs@.nsf/Lookup/4364.0.55.005Chapter7002011-12